All homecraft entries can be dropped off at the Exhibition Hall: Thursday, August 23, 2018 from 6:00 pm until 9:00 pm Friday, August 24, 2018 from 8:00 am until 9:30 am.
Find out more »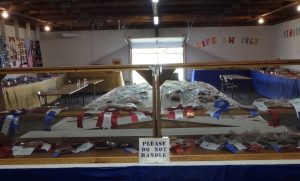 Browse the Exhibition Hall at the Chesterville Fair. On top of a variety of homecraft exhibits, including quilts, crafts, baking, gardening, jams and children's crafts, the Exhibition Hall is also home of the field crop exhibits and a number of vendors selling an array of products.
Find out more »
The exhibition hall is filled with entries from skilled and talented individuals of all areas. Top exhibitors are recognized at the end of the weekend in this special presentation ceremony.
Find out more »