Chesterville Fair Homecraft
Homecraft Division offers opportunities for creative people of all ages to show their talents.  Come back often as new information will be added as it becomes available.
Participant Information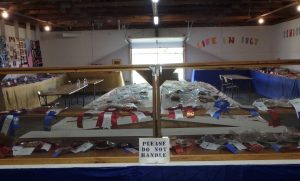 Please be sure to review the complete Rules and Regulations prior to registration.
Participants can complete their registration online through AssistExpo. You can also download a PDF version of the registration form here and a copy can be found in the print catalogue.
Entry tags will be available from the Homecraft Secretary until the evening of Thursday, August 23rd and tags will only be given out once an entry form is received.
Divisions
Class 1 – Vegetables
Chair Person: Jay Netherwood – 613-448-9018
Class 3 – Flowers
Chair Person: Shirley Coons – 613-448-2099
Class 4 – Youth – Flowers *
Chair Person: Shirley Coons – 613-448-2099
Class 5 – Baking
Chair Person: Joyce Francis – 613-774-2968, Kim Link – 613-774-5543
Class 6 – Youth Baking *
Chair Person: Joyce Francis – 613-774-2968, Kim Link – 613-774-5543 
Class 7 – Preserves
Chair Person: Marie Clair van Wylick – 613-448-2403
Class 8 – Sew, Knit, Crochet, Smocking, etc.
Chair Person: Lynn Marcellus – 613-448-3344
Class 9 – Hobbies and Crafts
Chair Person: Andree Desormeaux – 613-448-3107
Class 10 – Quilting
Chair Person: Carol Johnson – 613-720-0412
Class 11 – Golden Years *
Chair Person: Andrée Desormeaux – 613-448-3107
Class 12 – Youth Crafts and OAAS Poster Competitions *
Chair Person: Pat Monast – 613-229-8196
Class 13 – Amateur Photography
Chair Person: Muriel Smith – 613-448-3470
Class 14 – Youth – Amateur Photography *
Chair Person: Muriel Smith – 613-448-3470
Note:  * No membership fee required